Internationally known as Royal Mahogany, Andiroba or Crab Wood, Cedro Macho (
Carapa guianensis
) is a common wood for making general furniture and doors here in Nicaragua. This tree is usually found in the tropical forests in the RAAN and RAAS regions of the Altlantic coast. A member of the mahogany family it is often used as a substitute for rarer Honduras Mahogany, although we think the red-brown colours and natural figure  are perfect for making striking furniture.
The trees can be large, up to 50 metres (170ft) in height, with trunks up to 1.5m (5ft) in diameter.  It works well and takes a wonderful finish resulting in a fine lustre. Recent projects we have built using this wood include the Wedge Bench and Wedge Coffee table.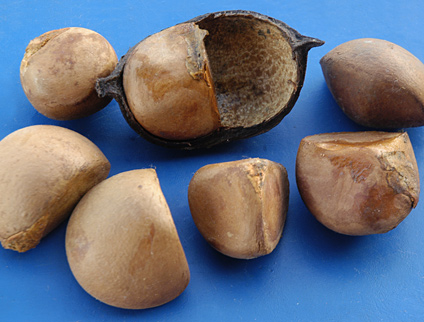 The nuts of the tree produce an oil which traditionally was used by forest communities as a natural insect repellent, and to treat fungal skin diseases. It is now used as a base for many commercial skin wrinkle creams.
- Jon
Photos of the Cedro Macho tree (above): Forest & Kim Starr
Details of Wedge Bench made from Cedro Macho. Photo credit: Chris Sataua